A veteran known for his production skills and versatile wordplay, Zeeno Da Boss has come a long way since he first picked up a microphone.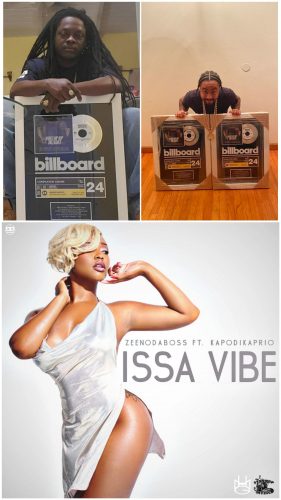 Rap and Hip-Hop artist Zeeno Da Boss is creating waves among music fans in the Virgin Islands and they can not seem to get enough as the artist continues to bag awards and receive positive reviews for his work. He has today announced an upcoming hit song with rap sensation, Kapo Di'kaprio, which is set to drop weeks from now. Zeeno Da Boss is highly revered by industry experts and fans as a versatile and popular artist.
A veteran known for his production skills and versatile wordplay, Zeeno Da Boss has come a long way since he first picked up a microphone. There is no denying the maturity in Zeeno Da Boss' music, but beyond that, the rap artist exudes a freshness that plays to music fans wanting more groove, and something new. Zeeno's music has been gaining popularity across the Virgin Islands and other Caribbean islands, including Jamaica, and also the UK, the US and Africa. His upcoming single "Issa Vibe" which features Kapo Di'kaprio is an effort at creating a new niche of reggae-rap fusion. The duo has been hailed as some of the pioneers of the Virgin Islands rap scene.
Zeeno Da Boss was born Aaron B. Young and raised on St Croix in The U.S. Virgin Islands. He has been passionate about music since childhood and was part of his local school and church choir in elementary school. He would record his favorite songs that played on the radio, to cassette, and replay them until he learned every word. After joining band class in the 7th grade, Zeeno's talent was recognized by his band teachers who made him perform solo pieces in front of the entire school at times. This is where he would build his stage confidence. It was fellow aspiring rappers and high school friends "Deuce" and "Big Sam" who inspired Zeeno to start writing his own rhymes . He drew inspiration from the music of legends like Tupac, DMX, Jay Z, Nas, Mobb Deep and Outkast to name a few. After attracting attention with a freestyle performance at a local Christmas event, Zeeno's popularity flourished as a new rap artist on the Virgin Islands music scene.
He was then approached by William Brewster a.k.a. "Scavi" who had recently formed a label that went by the name O.D.C. Entertainment (Only Dollars Count Entertainment). Zeeno then began teaming up on projects with his new label mates "GD", "Mac Daddy Pow", "Mike E Smokes" and "Ali Opriest". His association with Safron "Saffie" Mason (deceased), CEO of Beneath Da Underground Productions further honed his skills, until he finally teamed up with equally talented local artist Kapo Di' kaprio as a duo act that exploded on the local rap scene. The duo became extremely popular and were in Sunny Isles, a local shopping center, almost every day selling their CDs face to face with customers. From there on the duo would become one of the hottest hiphop/rap acts out of the big island.
After uniting with Raymond "Ragga" Lockhart of Stand Up Muzic, the duo have been putting out projects and singles to date. They even landed a distribution deal with Universal Music Group and were featured on the "World Hip Hop Unleashed Vol. 2" project, with their song "Talkin Bout". The compilation, was put together by Tiffany Gaines at SS Global & DJ Grid and also featured well-known artists like "Young Dro" and "Pac Man Da Gun Man". This landed them their 1st Billboard Plaque, with the project coming in at #24 on the charts. They were also featured on 2 International Projects, the 1st one out of Africa on the "Mighty Riddim" project, which was put together by Ghana's super producer Brainy Beatz and International Starz out of Jamaica. Also featured on this album was Reggae Super Star out of Ghana "Samini" . The 2nd was by way of Jamaica on the "Reggae Cruises to Jamaica
The Reggae Collector's Edition" with their dance hall single "Do Nothing for Me". The album was put together by Jamaica's Contractor Music Group and Beatbopper out of Virginia. Also featured on this album was Vybz Kartel, Peetah Morgan, Capleton, Skillibeng, Sizzla and led by Ghana's super star dance hall artist Shatta Wale. This project went on to be in the top 10 in over 13 countries and #1 on iTunes and Amazon Music, earning them their 2nd Plaque for 2020, with the project coming in at #16 on the charts. The two are currently working on new music and are sure to be known as pioneers in the Virgin Islands rap game.
Watch some of Zeeno Da Boss' hits on YouTube:
https://youtu.be/ruElorEGe5E
https://youtu.be/u7TDJd1AVDs
https://youtu.be/8fCAtH_72nk
Keep up with Zeeno Da Boss on social media:
Instagram: @Zeeno_Velli
Twitter: @Zeeno_Velli
Facebook: @Zeeno_Velli
Contact Info:
Name: Raymond "Ragga" Lockhart
Email: Send Email
Organization: Stand Up Muzic
Website: https://www.instagram.com/standupmuzic/?hl=en